The European Commission services and the High Representative jointly launched a public consultation on the way forward for the EU Maritime Security Strategy. The consultation contributes to a broad reflection on the EU Maritime Security Strategy, to face new challenges and threats.
This is a timely and forward looking report which neatlysummarises the findings from the consultation and suggests actions which will support the EU to preserve its Maritime domain strategically, evaluate future needs and protect against evolving security threats outlined in Figure 1 below. According to the report the EU Maritime Strategy faces significant threats relating to the degradation of the climate and environment and from cyber threats. MobiSpaces is taking significant care in the development of our data governance system and technology to protect against cyber threats as well as to ensure that we are operating as energy efficiently as possible to protect the environment.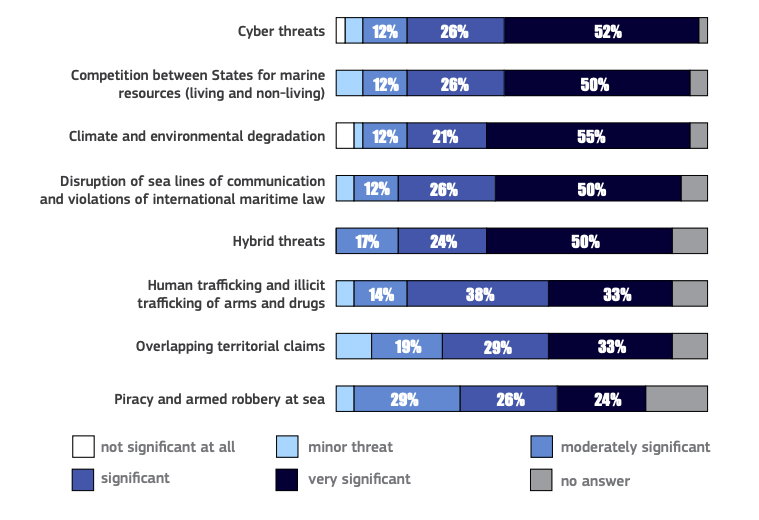 The report call for action in several areas including (but not limited to);
1. enhanced maritime situational awareness and reinforced information exchange across countries and sectors involved in maritime surveillance;
2. strengthened ability to detect and respond to hybrid threats affecting the maritime domain;
3. build coherent and ambitious capabilities and boost research, development, and innovation; and
4. use of new tools to face the emerging threats.
MobiSpaces is already responding to some of these pressing needs by developing an end-to-end mobility-aware and mobility-optimised data governance platform with key differentiating factor that the outcomes of mobility analytics will be utilised to optimise the complete data path, in terms of efficient, reliable, secure, fair and trustworthy data processing. This technology is being tested in the Maritime Domain by three of our Use Cases, namely Marine Traffic Tracker, CrowdSeaMapping and VesselEdge. These Use Cases are responding to the need for improved navigational charts and situational awareness in real time. We recently held a webinar introducing these Use Cases and how they will be tested in the Maritime domain. You can watch the recording of this webinar here.
You can read the full report here from the European Commission on the results from the public consultation on the EU Maritime Security Strategy.