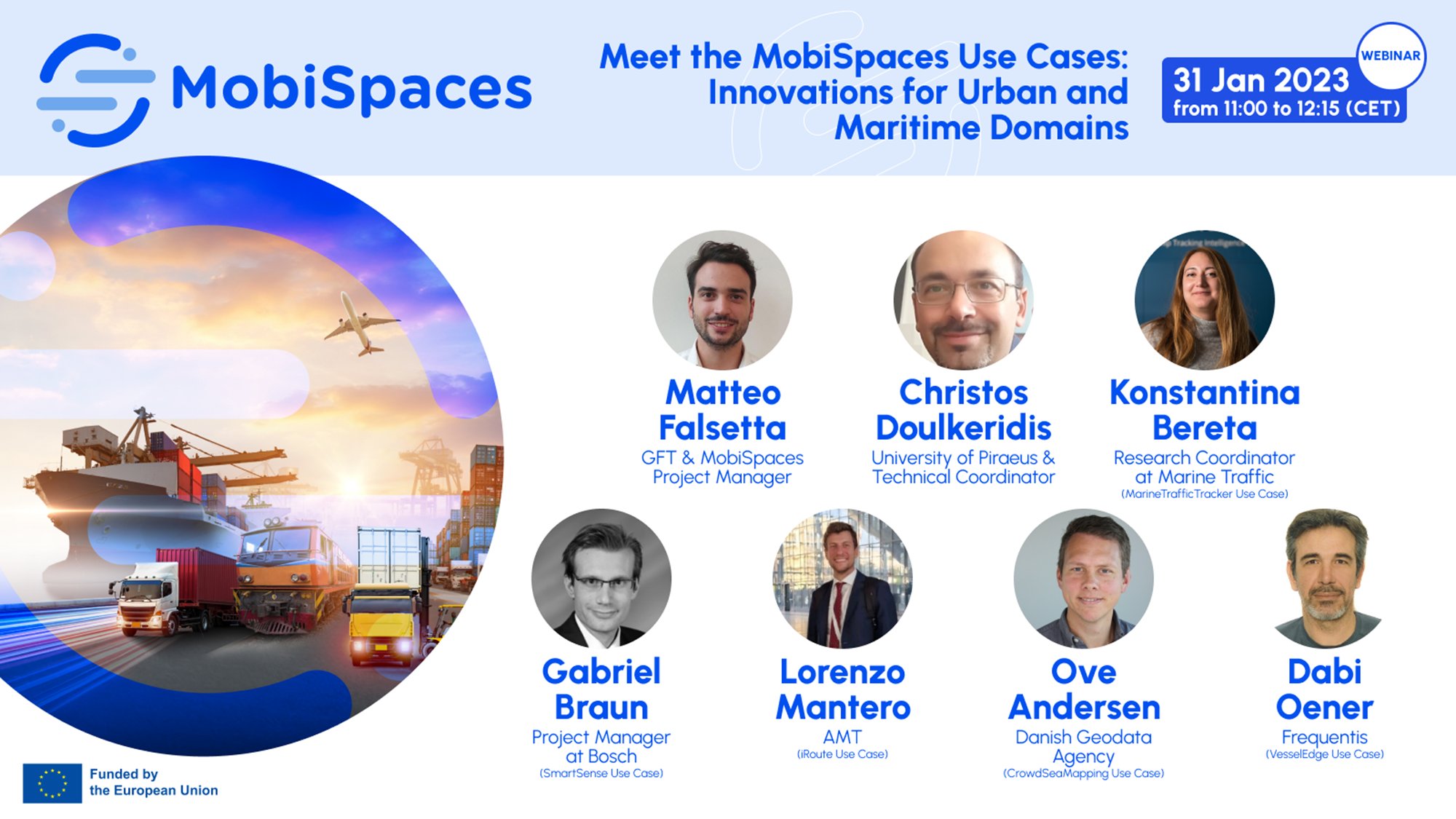 On the 31st of January 2023 the MobiSpaces held its first webinar where we discussed how the MobiSpaces Technologies are being tested in real world situations through our five Use Cases. The webinar was opened by the MobiSpaces Project Manager Matteo Falsetta who welcomed our attendees and introduced the MobiSpaces project.
Christos Doulkeridis the MobiSpaces Technical Co-ordinator then spoke about the projects vision and in particular highlighted some of the Technological Aims of the mobility-aware and mobility-optimised MobiSpaces data governance platform which will utilize the outcomes of AI-based mobility analytics and optimise the complete "Data Path". He then introduced briefly the five innovative use cases.
Five MobiSpaces Use-Cases
#1 iRoute Use Case
Lorenzo Mantero introduced iRoute which is focused on developing green mobility solutions to face both current and future issues of transport management for cities. iRoute is using a mixture of both predictive maintenance and predictive system analysis via data input from Canbus, AMV, GTFS and GTFS-RT data collected by iRoute as well as external data such as weather and traffic which is then input into the MobiSpaces platform. This has results in a better travel experience for AMT passengers as there is optimisation of e-bus monitoring and prevention of problems related to low batteries, leading to a better performance in scheduling e-bus timesheets and a reduction in malfunctions as maintenance services are optimised.
#2 SmartSense Use Case
Gabriel Braun discussed SmartSense which centres on improving air quality in cities via intelligent infrastructure traffic sensing. Gabriel outlined how they track and carefully monitor the emissions produced via traffic with the aim of targeted strategic traffic management interventions to lower emissions. MobiSpaces Technologies will be used to prove the reliability of air monitoring systems to create better modelling and predictive data analytics for the effect of traffic management decisions on air quality, for example street canyons in cities cause complex air dispersion which needs to be modelled with traffic emissions and air quality along with other environmental factors to enable intelligent interventions.
#3 MarineTrafficTracker Use Case
Konstantina Bereta explained how the MarineTrafficTracker will resolve current issues of measurement-to-object association (e.g. marine vessel) especially in cluttered multi-object scenarios. Currently this based on the Automatic Identifiction System (AIS) which is a collaborative self-reporting system that allows marine vessels to broadcast their information to nearby vessels and on-ground base stations. Some so called dark vessels switch this off as it is not mandatory. Thus the aim is to develop techniques for multi-sensor, multi-object tracking in order to enrich information coming from different sources and using the MobiSpaces platform to provide macro analytics on aggregated data from edge devices.
#4 VesselEdge Use Case
Öner Dabi discussed VesselEdge which concentrates on the opportunity for edge-computing on moving vehicles for increased flexibility, efficiency and safety in marine navigation. The aim is to improve situational awareness of vessels via the deployment of a novel AIS system which pre-processes the raw AIS data stream and transmits key information back. This will greatly extend the AIS coverage beyond the reach of current coastal AIS antennas and combining this with the MobiSpaces platform will significantly decrease the time needed for analysis, and in addition data processing and data transmittion will be greatly improved.
#5 CrowdSeaMapping Use Case
Ove Andersen outlined how CrowdSeaMapping will use crowd-sensing to significantly improve nautical charts. Ove outlined the challenges facing traditional approaches to the creation and maintenance of navigational charts followed by the innovative idea to begin using crowd sourced data to improve and modernise this process. Previous work in this areas put devices on vessels and then collected the data later to analyise however now with CrowdSeaMapping the approach is to prioritise getting the pertinent data quickly, and by creating a decentralised model learning from the local sensors and environment with data input into MobiSpaces for processing and analysis.
The Use Cases presentations were followed by a Q&A led panel discussion moderated by Matteo Falsetta. The main topic of this discussion was who exactly are the stakeholders for each of the use cases and what the added value of MobiSpaces is for each. Matteo closed the webinar by thanking both the speakers and participants.

Did you miss the webinar? You can watch the recording on our YouTube channel.

Or download the Use Case Presentations slides here.

To learn more about MobiSpaces and to keep up date about our activities sign up for our newsletter.